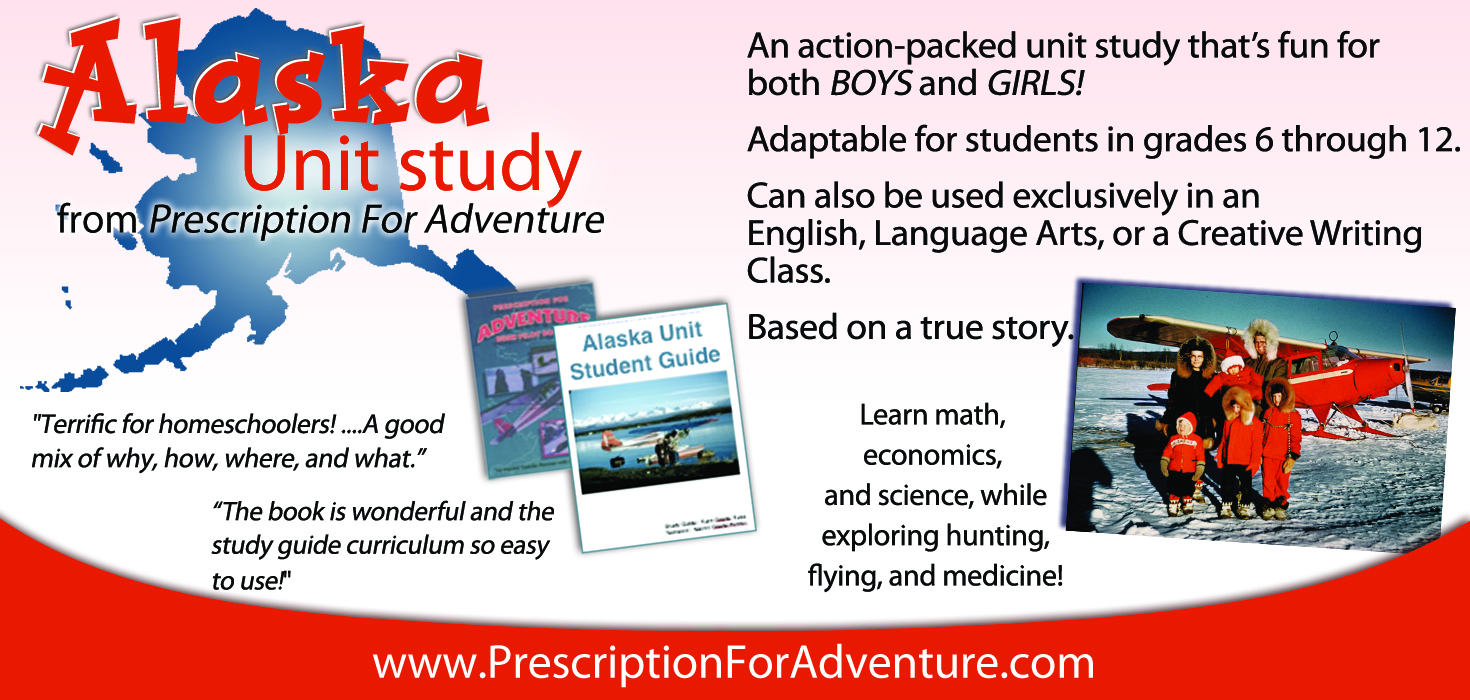 About the Study Guide
Looking for a unit study on Alaska for your classroom?
Does your tween or teen need an independent study?
In need of homeschooling curriculum?
Do your students need independent reading projects?
Are you taking a family trip to Alaska and want to learn more before you arrive?
If so, then this Alaska Unit Study Guide is for you!
This Alaska Unit Study Guide is perfect for students in grades 6 through 12. The instructor can pick-and-choose assignments suitable for his or her situation. In addition to specific questions and assignments, there are ideas for research, field trips, and journaling. Students can work together or individually on the math, economics, and science challenges.
The Guide can also be used exclusively in an English, Language Arts, or a Creative Writing Class, with a focus on questions and assignments pertaining to vocabulary, writing style, character development, figures of speech, and journaling.
About the Materials
Coursework includes the Alaska Unit Study Guide, Alaska Bush Pilot Doctor (keyed to both the 4th and 5th editions) and 'A' is for Alaska: Teacher to the Territory. History comes alive as students follow the challenges, adventures, hardships, and fun of real-life characters.
Additional resources (see below) of websites and books point the way to the Russian influences in Alaska, the strategic presence of the military, and early Native history.
Example Chapter
Read a free chapter from the Alaska Bush Pilot Doctor text: Tooth-pullin' Time
Sample Assignments
RESEARCH
Was Alaska a state at the beginning of this book? Research the events that lead up to its statehood.
Research sod houses: how constructed? why used? insulation factor? other observations. (Ch.2, p. 23)
Research Ben Eielson and his contributions to aviation history. (Ch.3, p.26)
Look up regulations on moose hunting. Talk to someone who has tips on how to hunt for moose. (Ch. 12)
ONGOING DISCUSSION
Notice and discuss writers' techniques used in this book.
Contrast the difference in Alaska between 1955 and the present day. What are some major changes?
QUESTIONS (specific per chapter)
Math: Calculate the number of miles Doc and the baby traveled by plane from Anchorage, to Fairbanks, to Kotzebue. In a DC3 at 150 mph and no wind factor, how long would it take to make the trip?
Economics: Doc and Ruby spent $1,000 on staple goods in 1957. Considering inflation, how much would they pay today for that same order?
Journal: Doc and his family found ways to get to know and appreciate people of a different culture. Describe a time when you were with someone of a different nationality/culture or a group of people whose way of doing things was different than yours. How did you feel? How did you relate to them? How did you show respect for them?
Writing: The wind plays a predominant part in this chapter. Highlight all the adjectives and verbs that are used to describe it.
Vocabulary:

prospector (p.90)
geothermal (p.91)
bunny boots (p.92)

Art: Choose one of the following artists or one of your own.

George Ahgupuk
Robert Mayokok
Barbara Lavalle

And answer the following questions:

Why are they considered "Alaska Artists"?
What years did they produce their art? Are they still practicing their art?
What mediums do they use? Is their anything unusual about their medium of choice?
What is their background material? (bleached animal skins, canvas, ?)

Here are some websites that could be useful:

Science: How does ice on aircraft affect its flight? Here are some hands-on, practical, Alaskan-specific resource books:

Skills, Tools, & Craftsmanship by Alan Dick, published by Alaska Native Knowledge Network. (Cutting and drying fish, chain clutch and chains, etc.)
Alaska: How to.... (Make snowshoes, fishnet, dogsled, basket weaving.)
Additional Resources
General websites for photos, audio interviews, etc, about Native people and culture, geography and climate, significant people in Alaska history (teachers, missionaries, healthcare workers, businessmen and women), village life, etc:
History of the Military in Alaska:


World War II Books


World War II DVDs

Red, White, Black and Blue - story of the invasion of the Aleutians (86 minutes)
Kids who made Alaska History:
Significant Alaska Events:
Article on ham radio operators on the Kenai Peninsula following the 1964 Earthquake


Earthquake Recovery Resource Guide


Personal accounts of people who experienced the 1964 Alaska earthquake. Reads like a story with so many interesting details.
Gold Rush:
Gold Rush at Valdez and 1964 Earthquake:
DVD: "Between the Glacier and the Sea: The Great Alaska Earthquake of 1964"
Facts about Alaska:


Facts about each community in Alaska: population, climate, history, culture, demographics, schools, health care, economy, and transportation:
http://www.commerce.state.ak.us/dca/commdb/CF_CIS.htm


Alaska Almanac: Fun facts, history, trivia, and cultural explanations about Alaska


Style Book for Alaska by the Associated Press/Published by Epicenter: Explains Alaskan names, language, culture, and word spellings and usage
Alaska Natives:


Fifty Miles from Tomorrow by William L. Iggiagruk Hensley is an excellent history of the Alaska Federation of Natives and Native Claims Settlement Act, and explanation of how Native corporations were formed. The author's story-telling of growing up in Kotzebue adds interest and dimension to the history.


Transportation:
Field Trips
Other
Spirit of the Wind - story of George Attla, champion sprint dog musher, who won 10 Anchorage Fur Rendezvous Championships and 8 North American Open championships. (112 minutes)


Developed By
The Study Guide was developed by Naomi and by Ruth Gaede Rupp. Ruth obtained her Elementary Education degree from Kenai Peninsula College, extension of the University of Alaska. Her teaching experience includes assistant teaching at Cook Inlet Academy and substitute teaching in Soldotna public schools. Ruth's familiarity with the Alaska educational standards, sensitivity to how children learn, and attention to details contributed to the depth and breadth of the guide.
Naomi holds a degree in English and in Secondary Education from Colorado State University. She has taught at Kenai Peninsula College and Denver Seminary. Her "big picture" perspective, passion for education, and adept use of the Myers-Briggs Type Indicator (personality assessment) complemented the formation of the guide.