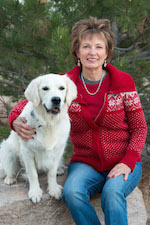 I collect word pictures and rocks.
I love a good hamburger with yellow mustard, and couldn't live without a glass of unsweetened iced tea. I have moved 23 times and my many moves have made me adaptable.
Walking in open spaces and watching my spirited English Cream retriever curiously run ahead and track scents with her nose, lifts my spirits and clears my head.
And then there is the satisfaction of working alongside people with similar goals, and as a team, building relationships, accomplishing much, and having fun in the process. My life is full and good!
Current Writing Projects
"Alaska Bush Pilot Doctor" is out of print. I'm working on getting it back onto shelves, on amazon, and into an e-book format.
The first printing was in 1991 and the book had a red cover. This was followed by a second editor, new formatting, and printing by a different company in 1994—and a teal cover. Then came a third editor, two additional chapters, different formatting and printing in 2008—and a pale blue cover. In 2012, there was a new editor, removal of the two additional chapters, revamped interior design, and printing by another company. The book had a deep blue cover.
Now, 2023, I've hired a new editor, and the same graphic (interior and cover) designer I used for "The Bush Doctor's Wife." I expect the book cover will be very similar to the one created in 2012. And, I'll be adding in the two chapters that over the years have revolved in and out of the publication.
When will "Alaska Bush Pilot Doctor" be back in print? I truly hope by the first of September, 2023. Watch my Facebook for updates. Thank you for your patience.
I'm pleased to be a columnist in The Country Register, Kansas. There are Country Registers in most U.S. states and several Canadian provinces. It's fun to see which other Registers pick up my columns. In my "Prescriptions for Adventures" column you can find mini-stories, recipes, and questions to reflect on.
I also have a blog!
More About My Writings
My first serious writing efforts were for a church newsletter and then an inner city ministry.
My first published material was a short Christmas reflection published in the December 1981 issue of "The Christian Leader." I was paid $25 — and felt like a real writer.
My first book was Memories & Meals. In 1983, a group of us put together the recipes and history of Deer Creek Christian Camp, Bailey, Colorado. Word processing was just coming into existence. Typing and retyping was the mode of operation. The software "publisher" was unheard of. I placed every perfectly typed page on the floor around my living and dining room to figure out which page would be right and which one left. Today, Memories & Meals is the only history of the camp. I still have requests to purchase the book, of which there are no available copies for sale. If another collaborative effort were to be ignited, I'd be happy to work on that project.
Since that time, I've been published in newspapers, magazines, and books. (full writing credits)
What launched me into bookwriting? My father hand-scribbled some of his flying, hunting, and medical adventures. I chose one and shaped it with a lead, setting, character description, tension, and dialog. Then I submitted it to Alaska Flying magazine. It was accepted. I chose, shaped, and submitted another. It was accepted. Why not branch out? I sent his stories and some of my own articles to Fairbanks Daily News-Miner, The Christian Leader, Christian Medical Society, and other publications. They were accepted. Having accumulated a handful of Alaska stories, I naively thought that writing a book wouldn't be much more difficult. I was inexperienced. I was enthusiastic. I was a hard worker. I was persistent.
Writing a book is far more intense than writing an article. It requires seeing the entire project, conceptualizing how chapters will fit together, working with flashbacks to give the back story and to stall the climax, yet not losing the reader. Too much and too little detail needs to be weighed. The entire book needs to be balanced with the same amount of time allocated to elements in each chapter. Individual chapters have to be thoughtfully crafted within the carefully strategized book.
In 1991, Rx (prescription) for Adventure: Bush Pilot Doctor was born. Since that time, it has been through four revisions and re-publications. It's definitely a fasten-your-seat-belt type book and readers keep buying it.
What are my specific challenges as a writer? There are many:
To piece together a story from my parents' letters that were written starting in 1943.


To sort out information that I find intriguing, but is not necessary for the story.


To not over-repeat information, flashbacks, or stories among the books.


To develop a strategy for the series.


To put together a Critique Group that asks suitable clarifying questions, understand good writing technique and style, and offers options on slant or development of the story.
Adventures
There are many prescriptions for adventure. In the Prescription for Adventure series, there are prescriptions of:
Rural and wilderness medicine
Bush flying
Rural and wilderness teaching
Living in a remote Alaska village
Leaving a familiar close-knit culture and venturing to a mysterious destination - away from family and friends
Relocating frequently
Hunting
Using personality gifts, experience, and education for the service of humankind
Fulfilling the role of mother and wife within adverse situations
Exhilaration and humor of facing adversities in Alaska
What are your prescriptions?
Using your natural abilities and individual passions with the result of an adventure?
Doing something outside your comfort zone?
Exploring the unknown? Wilderness, mountain top, ocean, third-world country, inner city?
Volunteering?
Living in an environment conducive to adventures?
Taking on physical feats with unknown outcome?
Trying something new?
Here are some of my adventures.
My Articles About Alaska
Articles Published in the Peninsula Clarion
2001, "The Red Baron and the Flying Gator."
2001, "What Float Plane Passengers Need to Know."
2001, "First Snow: Brother Determines Start of Family Tradition."
May 13, 2001, "You'll Find Her in the Garden."
Dec 17, 2000, "Sun Worshippers."
These articles can be accessed at the Kenai Peninsula Clarion Online:
www.peninsulaclarion.com
Click on Archives
From the Year drop down menu, select the appropriate year
Under Search Author, type "Naomi Gaede Penner"
Under Search Keywords, type the name of the article
Other Articles Published
2006, "Sourdough Memories: Going Home to Alaska's Kenai Peninsula," Go World Travel
Mar 2000, "No Ordinary Day" (Excerpted from Prescription for Adventure: Bush Pilot Doctor), Selected for the Third Annual Central Peninsula Writer's Night.
Apr 1989, "Flight by Faith," Moody Monthly.
Spring 1989, "Bush-Pilot Doctor in the Last Frontier," Christian Medical Society.
Nov 1987, "Learning to Fly...Can Open Unusual Doors," Alaska Flying.
Feb 8, 1987, "Bush Doctor," "We, Alaskans." Fairbanks News-Miner.
Feb 1987, "The Flying Physician: Rx for Excitement," Alaska Flying.
Dec 1986, "No Ordinary Day," Alaska Flying.