You may, or may not, know that the series started as one book: Prescription for Adventure: Bush Pilot Doctor, which went into print in 1991. Since that time, readers have asked "What about you? What about your Mom? What about the rest of the family." Thus a second book was born: Prescription for Finding Home in Alaska. After that book came out, the Alaska Unit Study Guide was developed for Alaska homeschoolers, of which there are over 10,000. Then, readers wanted something completely new - this inspired the compiling of the Anna Bortel story, the story of my second-grade school teacher.
In all the Prescription for Adventure books, you will find a Reader's Guide which is perfect for Book Clubs, student Book Reports, homeschoolers, and/or intergenerational/family discussion. All books will come in e-book format. The first two books will be offered in audio book format.
Current Writing Projects
I am re-editing and re-proofing the four titles in the Prescription for Adventure series. If anyone has errors they'd like to report, I'd be happy to incorporate them.
I volunteered to interview, report, and write our new neighborhood newsletter, The Wilde Trail. I'm having so much fun organizing the 16 page publication and love working with the graphic designer and publisher. I'm curious why people moved to this community, what people volunteer for in community roles and other causes - and why they give of their time. I also want to know interesting pursuits neighbors have when they're not at work. Interviewing comes naturally. Since I see life and incidences as a story, the interviews all read like mini-stories.
I'm pleased to be a columnist in The Country Register Kansas. There are Country Registers in most US states and several Canadian provinces. It's fun to see which other Registers pick up my columns. So far, I've been published in two provinces and five other states. In the Prescriptions for Adventures column you can find mini-stories, recipes, and questions to reflect on.
Writing a blog is new to me, but if you want to find what I'm doing, reading, researching, follow me on my blog!

From 1957 - 1959, my father was the Medical Officer in Charge (MOC) at the Public Health Services Hospital in Tanana, Alaska. Ever since that time, Tanana has had a special place in my heart. In 2009, the hospital was demolished. This was sad for many people, including me. I felt honored when the Indian Health Services (IHS) asked me to help compile and develop a commemorative booklet. In August 2012, three years of hard labor culminated in the Development, History, Community & Cultural Significance of the Tanana Hospital Complex. This was one of the most meaningful projects I've ever worked on.
Prescription for Adventure Series
Alaska Bush Pilot Doctor (previously titled: Prescription for Adventure: Bush Pilot Doctor) is available for sale.

From Kansas Wheat Fields to Alaska Tundra: A Mennonite Family Finds Home (previously titled: Prescription for Finding Home in Alaska) is available in both paperback and audio book format.

A is for Alaska: Teacher to the Territory is available in both paperback and audio book format.
'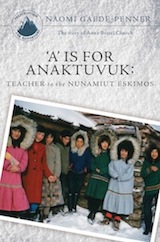 A is for Anaktuvuk: Teacher to the Nunamiut Eskimos is available in paperback format.
A new book is in the making: Prescription for the Bush Doctor's Wife. Readers have expressed curiosity about the years in Tanana, 1957-1959. This era was introduced in both Prescription for Adventure books, but without in-depth details of daily life in the Interior Alaska Athabascan village. The focus of the previous books was on Doc and the Gaede family in general. A question remains: what about Ruby?
In the village of between 250 and 300 people, social life, purchases, and entertainment were limited to a Northern Commercial Company general store, three churches, community hall, Day School for grades one to eight, and whatever the FAA support staff, White Alice employees, hospital personnel, school teachers, or villagers themselves could provide or devise.
Ruby's days were a mish-mash of keeping track of four children, preventing one toddler from falling into the swift-flowing Yukon River; ordering a year's worth of canned and boxes food supplies to be brought in by river barge, before the river froze; befriending the Native women and learning from them their skills of beadwork, skin-sewing, and salmon-smoking; brainstorming sanity-preserver-fun of a Hobo Halloween party, hot dog picnics at 30 below zero, and a Sewing Circle — where she served up dainty treats of cream puffs or tiny sandwiches. She shot a moose and dressed it out. She baked twice a week, including hot dog and hamburger buns. On summer Sundays, she walked in high heels down the dusty Front Street to the chapel. This Kansas-born farm girl, accustomed to blazing sun, rolling wheat fields, and fresh produce, thrived.

Future books in the Prescription for Adventure series include:
Prescription for Putting Down Roots at 50 Below
Prescription for Turning a Boy into An Alaska Man
Prescription for Surviving a Homestead: Floatplane, Burn Pile, Cranberries
Check out an overview of the entire series.